Community Spotlight: Shannon Brewing Co.

Shannon Brewing Company is a force to be reckoned with in the brewing industry. They create one-of-a-kind natural beers that blow the competition out of the water and are bettering their community in the process.
Check out this community spotlight to learn more!
Their Award-Winning Process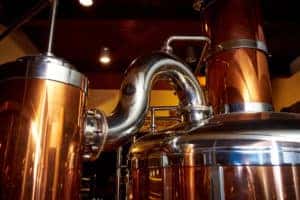 Shannon Brewing Company beer is an ode to the elements, as well as the old days. They use an old-school fire-brewing process that originated in the oldest Irish brewhouses. Their all-natural beer starts with pure Texas spring water, top-quality malted barley, and whole flower hops.
These premium ingredients get to know each other through the fire-brewing process during which they blend and delicately caramelize. This makes both the flavor profile and the aroma wholesome, yet complex—for one-of-a-kind beers you won't find anywhere else.
Unlike many other brewing processes, Shannon Brewing Company's process is free of filtering and pasteurizing. They believe these unnecessary steps can strip the flavor from the beer and create an unnatural muteness to the taste.
A Beer Selection like No Other
Their beer selection features a variety of year-round, barrel-aged, rotating beers. Anytime of the year, you can enjoy a Shannon Irish Red, a Shannon Tejas Light, or a Shannon Mór IPA. Or, you can opt for a keg of barrel-aged Shannon Chocolate Bourbon Stout or Shannon Chocolate Rum Stout.
To ensure you enjoy your beer at its full potential, their website is also laden with helpful serving and storage instruction. Check out their "Our Beer" page to learn more about what temperature your beer of choice needs to be served at or what it should be enjoyed with.
Or, you can always stop into the Shannon Brewing Company taproom and beer garden, where every beer is served to perfection. Enjoy a beer sampling at the bar top or cool off with a cold one out on the patio.
Beer Brewing with a Cause
Their beer is brewed with fire as hot as the one in the hearts of their team, when it comes to giving back to the community.
For starters, Shannon Brewing Company is dedicated to making their community a better place by following strict, self-imposed sustainability guidelines including:
Capturing and composting spent trub, rather than contributing to the world's waste
Donating all spent grain to local farmers and ranchers to feed their animals
Minimizing water consumption through natural water-source usage
Implementing a brewery-wide recycling program, so nothing needs to go to waste
They don't stop there, though. They also proudly donate to all kinds of local causes and charitable organizations. If you have a cause you'd like them to contribute to, shoot them an email.
Enjoy a Guilt-Free Beer at Shannon Brewing Company
From start to finish, this brewing company is thinking about their impact on the world. Everything about their process and operation screams consideration and compassion for the Rockwall community and beyond.
Enjoy a natural, sustainable beer with Shannon Brewing Company. Check them out on Facebook to see what they're brewing up!