CPO Certification
Making a CPO (Certified Pre-Owned) car your next vehicle is an excellent choice. However, shoppers in Arlington, Dallas, and Fort Worth might be wondering what it takes for a pre-owned BMW to achieve CPO status.
On this page, we at BMW of Arlington will give you a thorough run-down of the CPO certification process to show you just how high-quality our certified cars are. Let's get started by taking a look at the many requirements that come with the CPO certification!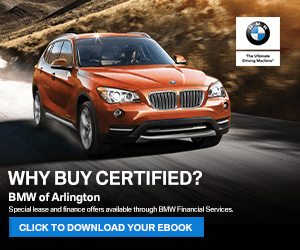 CPO Certification Requirements
Right off the bat, our certified program won't accept any vehicles that aren't a recent model year and have more than 60,000 miles on their odometer. If a pre-owned vehicle meets that first round of standards, it'll move on to our in-depth and rigorous CPO inspection.
This inspection, which is performed by expert BMW-trained technicians, covers every inch of a CPO candidate. Below is a brief overview of what the inspection entails:
Wheel Assembly: Tread depth of each tire, M-Mobility Kit, tire specifications
Brake System: Brake functionality, pad and rotor condition, meets OEM quality standards
All Glass Areas: Windshield, door windows, rear window, exterior & interior mirrors
Exterior Features: Bumpers, hood, roof, antenna, light assemblies, trunk, panel alignment
Interior Features: Weather seals, carpets, upholstery, lights, glovebox, headliner, seats
Mechanical: Lights, wipers, central locking functions, engine, steering components, fluids
Safety: Airbags, seatbelts, gas shocks, child lock functions, alarm functions
This overview has less than a fourth of what the full inspection checklist entails. If you'd like more information about what's checked during this inspection, review our full checklist here.
On top of this physical inspection of the vehicle, a detailed inspection of the vehicle's previous ownership, accident, and maintenance history will be conducted as well. Every past visit to the service center and modification to the original equipment of the vehicle will be reviewed for potential disruptions in quality.
The Benefits of Owning a CPO BMW 
There are a variety of benefits that come with owning a CPO car. One of the most obvious is the value. You get an incredible bang for your buck when you choose a CPO car over a new or used car. With such great quality to offer, the prices can't be beat.  At BMW of Arlington, we offer an extensive line of CPO inventory, so you have a variety of cars to choose from.
The benefits of CPO ownership doesn't stop there, though. When you opt for a CPO BMW, you receive a number of other helpful services including enrollment in the BMW Roadside Assistance Program. This program covers you for six years/unlimited miles from the original in-service date.
This program offers on-the-road assistance, like help with a flat tire or dead battery. They'll also come to the rescue if you ever find yourself locked out of your vehicle. Need a tow? This program has you covered there, too. On top of all of that, you can count on the program's Emergency Valet service to get you where you need to go if your vehicle is in the shop.
CPO Certification: Ready to Find Your Next CPO Car?
As you can see, certified cars are a great way to go when considering what kind of car you want to get next. We at BMW of Arlington have an extensive inventory of CPO BMW cars available for those who are ready to get the ball rolling.
Shoppers in the Arlington, Dallas, and Fort Worth areas should give us a call today with any questions they have or to schedule a test drive!