Brake Repair near Me

At BMW of Arlington, we know that all our customers from the Arlington, Dallas, and Fort Worth areas understand the value of having good brakes, but how much do you know about the way brakes work and what we do to fix them?
By learning more about brakes and brake repair, we hope that you'll have everything you need to keep your braking system in great condition.
Schedule Service
How We Handle Brake Repair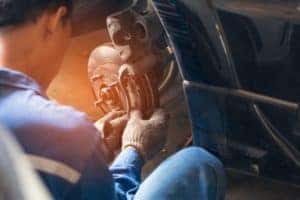 The brakes are a very important component of your vehicle. They are what brings you to a stop, after all. Here at our service center, our experienced technicians have been repairing brakes and braking systems for years, so you know they can be trusted to get the job done right.
Armed with the latest in automotive repair technology, our trained technicians will get to work. They'll inspect every aspect of the vehicle's braking system, and other systems if necessary, to diagnose the problem.
After our team has identified the problem, we'll get to work right away. If the brakes need to be replaced, we'll simply install a genuine, high-quality set of new parts, so you can rest assured that you have a reliable fix that will last.
How Long Do Brake Pads Last?  How to Bleed Brakes
Signs That You May Need a Brake Repair
Worn brake pads. If you can see your brake pads through the spokes of your wheels, check for wear. The pad will be pressed against a metal rotor. If you see less than a quarter-inch of pad against the rotor, you may want to have your brakes inspected.
Pulling. If your vehicle pulls to one side when braking it could mean one of a few things. Your brakes could be wearing unevenly or they may just need an adjustment. It could also mean that there is foreign matter in the brake fluid.
Vibration. A vibrating or pulsating brake pedal is often a sign of warped rotors. The vibration will feel similar to the feedback given during a panicked stop in a car equipped with anti-lock brakes.
Grinding or growling. A loud metallic, grinding or growling noise is caused when your brake pads have worn down completely. The noise is created by the disc and caliper when they rub against one another. If this happens your mechanic may suggest that your rotors be turned or replaced.
If you notice any of these signs and believe that you're in need of a brake repair, it's important that you schedule a service appointment. It'll help ensure your safety and give you peace of mind.
Schedule Your Brake Repair
The safety of your vehicle depends heavily on the brakes. If you've seen any of the warning signs and think there may be an issue with your brakes, it's important to get them checked. If you are in the Arlington, Dallas, and Fort Worth areas and need a repair, schedule service at BMW of Arlington today.