Download Our FREE Buyer's Guide to the BMW X5 eBook!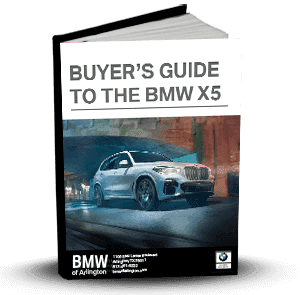 Are you thinking about making the 2020 BMW X5 your next luxury midsize SUV? You've come to the right place! Our team at BMW of Arlington has gone above and beyond to help shoppers find the right SUV for you by putting together this detailed and comprehensive Buyer's Guide to the BMW X5.
Inside this helpful guide, you'll find all kinds of information about what this model offers, including:
Four uniquely equipped luxury trim levels
Three powerful engines
An array of high-end interior furnishings
State-of-the-art safety & convenience features
And much more!
Download your FREE copy of this helpful guide and get started on your research today. All you need to do is fill out and submit the short information request form on this page.