FREE Buyer's Guide to the 2022 BMW X3 eBook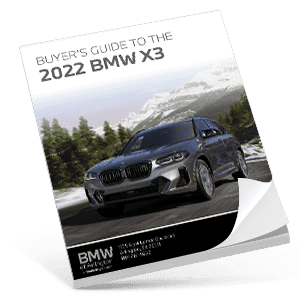 When it comes to driving, what are your preferences? Do you look for an infotainment system with ergonomic dials and voice-controlled features? Do you want to feel your engine's hearty acceleration on the highway? Do you need driver-assistance features to help you combat the unexpected?
It sounds like you and the 2022 BMW X3 would be a great pair. This luxury SUV may be considered small, but it provides a larger-than-life experience for all interested Arlington, Grand Prairie, and Fort Worth, Texas, drivers.
Ready to see what this SUV has in store for you? Fill out the form on this page to download our FREE Buyer's Guide to the 2022 BMW X3 eBook! Our team at BMW of Arlington put together this informative guide to show you what you can expect from the next-generation BMW X3.
If you have any questions after reading or are looking to schedule a test drive, stop by our dealership today.