BMW X5 Accessories

The BMW X5 is known for its incredible power, outstanding design, and state-of-the-art features. However, this model also offers a variety of customization options that can help you make this luxury SUV truly yours, starting with the many different accessories this model can be equipped with.
To help you explore your accessory options for your BMW X5, we at BMW of Arlington have put together this BMW X5 accessories guide. Shoppers in the areas of Arlington, Dallas, and Fort Worth should read ahead to learn more!
Style Enhancement Accessories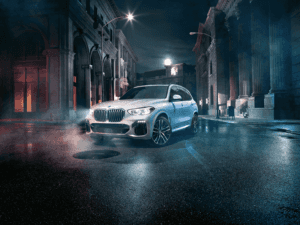 The BMW X5 is already expertly designed to maximize aerodynamics as well as draw attention no matter where you drive. Up the ante even more with performance front and rear winglets and a rear carbon fiber diffuser that look great and work hard to reduce drag while you're flying down the freeway.
Protect the sleek and shine of the exterior of your BMW X5 with tailor-fit, 3-ply coverings that come straight from the BMW manufacturer. These coverings are designed to prevent weather-related damage as well as scratches of all kinds.
Quality Preservation Accessories
The interior of the BMW X5 was crafted to place you right in the lap of luxury. Preserve the high quality of your BMW X5's interior with a wide lineup of interior accessories, including:
Precision-cut, BMW-approved covers that go right over your seats
Cargo dividers and nets to help you make the most of your cargo space
Weather mats to keep your floor upholstery looking brand new
You can also personalize the interior of this model with unique covers for the shifter and the steering wheel. These carbon fiber covers not only provide protections for the high-quality materials of your BMW X5's interior, but they also give you the opportunity to express yourself.
Advanced Technology Accessories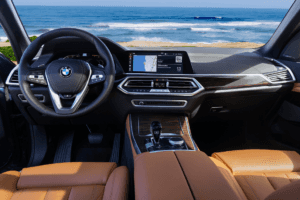 As a luxury vehicle, the BMW X5 comes packed with advanced technology features, such as intuitive active safety features and a state-of-the-art infotainment system. However, this is just the tip of the iceberg when it comes to the X5's technology capabilities.
Ramp up the entertainment aspect of this model by opting for a rear entertainment system complete with two high-definition screens placed in the back of the front-row headrests. Rear-seat passengers can use these screens to watch movies, stream shows, and more right from the comfort of your luxury SUV.
Keep your devices juiced up in the BMW X5 by opting for an available wireless device charging pad. No need to worry about bringing your charging cord along—simply place your compatible device into the slot and go.
Accessorize Your BMW X5 Today!
As you can see, there are many different ways that you can personalize your BMW X5 with all kinds of accessories. Maximize your performance, embrace your own unique style, and take advantage of the latest on-road tech with BMW X5 accessories.
Begin customizing your BMW X5 by browsing the many available accessories we have for this model today. Then, shoppers in the areas of Arlington, Dallas, and Fort Worth should give us a call at BMW of Arlington to place an order for BMW X5 accessories!