---
The BMW X3, like every other BMW model, is designed to make each trip as easy and enjoyable as possible. That's why it's equipped with many helpful features to keep you in the loop about the well-being of your vehicle. One such feature is the dashboard warning light system.
In this BMW X3 Warning Lights guide, we at BMW of Arlington will give you a detailed overview of the many warning signs you might see come up on the dashboard and what they mean exactly. Drivers in the areas of Arlington, Dallas, and Fort Worth should read ahead to learn more about their BMW X3!
The Importance of BMW Warning Lights
Every BMW X3 is equipped with a dynamic dashboard system that provides you with all kinds of important information about your vehicle. On this dashboard, you'll see several different types of lights including indicator lights, which let you know when a system is in use. You'll also see warning lights, which are designed to alert you of a problem going on in your vehicle.
These warning lights are integral to maintaining the functionality of your BMW vehicle. When something goes wrong, it's important to get it addressed as soon as possible to prevent further damage to your vehicle and potential subsequent accidents.
Most Common BMW X3 Warning Lights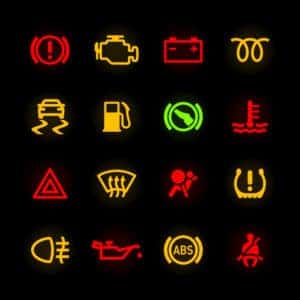 Inside your BMW X3, you may see a number of different warning lights pop up on your dashboard. Below, you'll learn about the most common ones and what they mean:
Airbag System Warning Light—This light, which is shaped like a person in a seat with an airbag in front of them, lets you know when the airbag system has failed.
Anti-lock Brake System Warning Light—When this circle-shaped light turns on, it's letting you know there's something wrong with the brake system or driver stability control system.
Battery Warning Light—The battery warning light, which depicts a battery, lets you know if your battery is getting old or has a low charge.
Engine Overheating Warning Light—If your engine is working too hard and starting to overheat, it'll let you know by signaling you with a warning light shaped like a thermometer.
Low Fuel Warning Light—If you're running low on gas, a warning light shaped like a gas pump will light up on your dashboard.
Tire Pressure Warning Light—If one of your tires has low pressure, you'll be notified by a light shaped like a tire with an exclamation point in it.
Still Have Questions about Warning Lights?
We at BMW of Arlington are proud to provide drivers in the areas of Arlington, Dallas, and Fort Worth with helpful guides like this one. We hope you got all the information you were looking for about the warning lights inside the BMW X3.
However, if you still have questions about these lights, our knowledgeable team of technicians are here to help. Drivers in the areas of Arlington, Dallas, and Fort Worth should give us a call today!