BMW X3 vs BMW X5

BMW is known for manufacturing luxury vehicles that take every aspect of driving to the next level. Both the 2019 BMW X3 vs. 2019 BMW X5 deliver with a remarkable combination of performance, interior features, and top-notch technology. Which one is a better fit for your lifestyle near Arlington, Dallas, and Fort Worth?
We at BMW of Arlington are here to help you make that exciting decision with this detailed model comparison. Below, you'll see how these two impressive luxury SUVs compare when it comes to dimensions, performance, technology features, and much more. Read ahead to see which luxury model is the best fit for your needs!
X3 vs X5: Exterior Design & Dimensions
The 2019 BMW X3 is categorized as a compact luxury SUV, meaning it has a smaller body than the average SUV. The 2019 BMW X5, on the other hand, is considered a midsize luxury SUV, with a larger body size that accommodates heavy-duty towing jobs and more passengers.
See how the exterior dimensions of the X3 and the X5 compare below:
| | | |
| --- | --- | --- |
| | 2019 BMW X3 | 2019 BMW X5 |
| Curb Weight | 4,034 pounds | 4,813 pounds |
| Height | 66 inches | 69 inches |
| Length | 185.9 inches | 194.3 inches |
| Width | 74.4 inches | 78.9 inches |
Although they may be slightly different in size, both the 2019 BMW X3 and the 2019 BMW X5 are designed with style and appeal in mind. Both models sport smooth, sleek aerodynamic lines and eye-catching spoilers.
Plus, both models can be equipped with roof spoilers with center brake light, LED fog lights, and Adaptive LED Headlights. These Adaptive Headlights work on their own accord to make sure that your visibility is as clear as possible.
X3 vs X5: Performance Specifications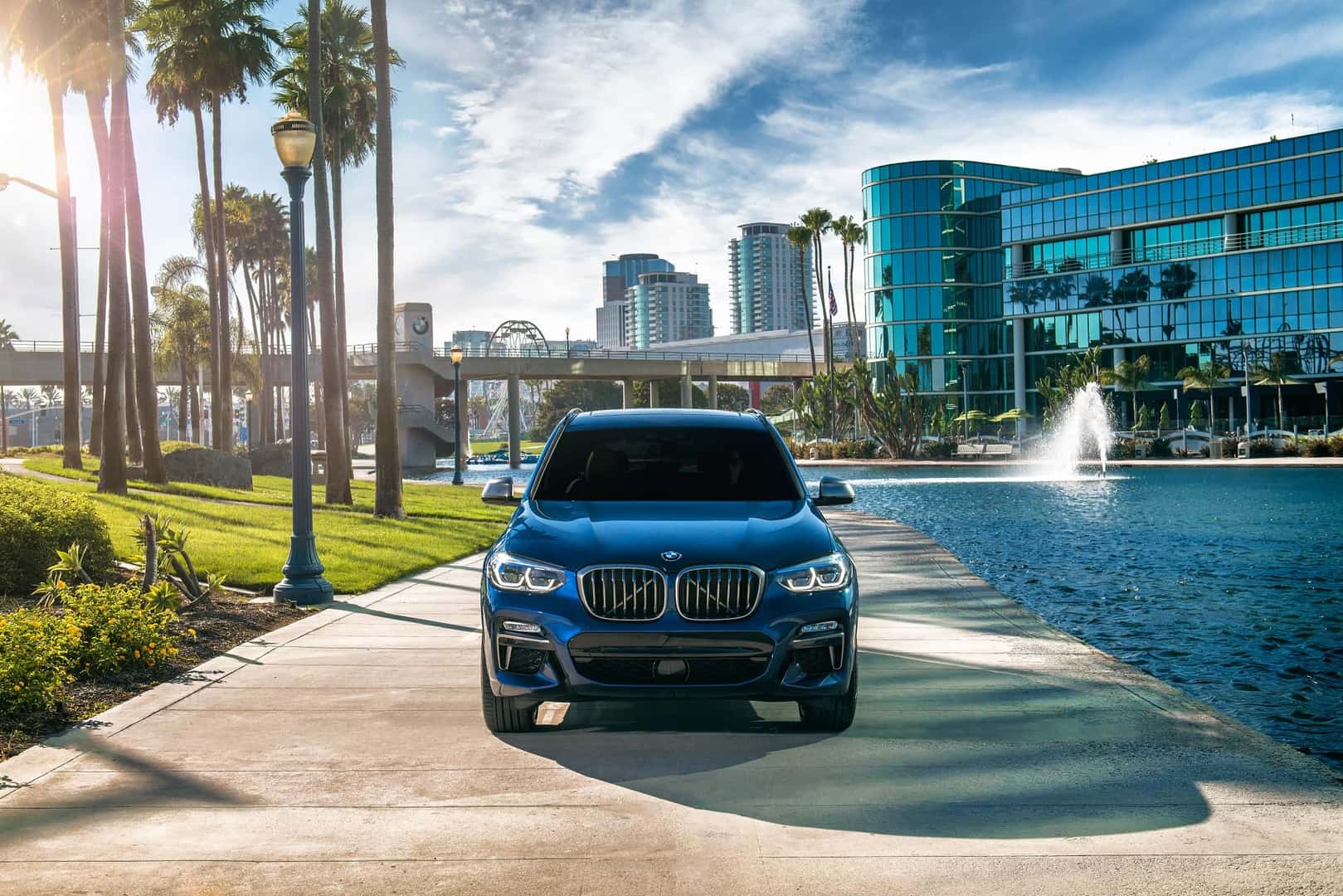 As comparably capable luxury vehicles, the 2019 BMW X3 and the 2019 BMW X5 have several things in common under their hoods. Both models come equipped with a standard 8-speed Sport Automatic transmission with Sport and Manual shift modes. With this transmission setup, you can customize your power distribution to cater to your current driving needs.
The two models begin to differ a bit when it comes to their engines, however. The X3 is powered by a 248-horesepower 2.0L 4-cylinder engine that achieves an impressive EPA-estimated 23 city/30 highway MPG. You can also swap out this engine for an available 3.0L TwinPower Turbo 6-cylinder engine that produces a whopping 355 horsepower and 365 lb-ft of torque.
The X5, on the other hand, is standardly powered by this 3.0L TwinPower Turbo 6-cylinder engine. With this model, this engine makes an incredible 335 horsepower and 330 lb-ft of torque.
Replace that engine with the X5's available 4.4L TwinPower Turbo V8 engine, and you'll have a vehicle that's capable of 456 horsepower and 479 lb-ft of torque. With this kind of power and the proper towing equipment, the X5 can trailer more than 7,000 pounds.
X3 vs X5: Interior Space & Comfort
As a compact SUV, the 2019 BMW X3 sports five seats, while the 2019 BMW X5 offers two extra seats thanks to its larger midsize body. However, you'll see that they have similar passenger accommodations in the first and second rows in the following interior dimensions:
| | | |
| --- | --- | --- |
| | 2019 BMW X3 | 2019 BMW X5 |
| Front / Rear Headroom | 41.1 / 41.1 inches | 40.8 / 40.8 inches |
| Front / Rear Legroom | 40.3 / 36.4 inches | 39.8 / 37.4 inches |
| Front / Rear Shoulder Room | 57.6 / 56 inches | 60 / 58.1 inches |
| Standard / Maximum Cargo Room | 28.7 / 62.7 cubic feet | 33.9 / 72.3 cubic feet |
On top of all this space, the BMW X3 and the BMW X5 also offer several luxurious features that up the comfort even more. For example, these models offer available leather upholstery, power adjustable front seats, and available heated and cooled front seats.
The X3 also offers an automatic 3-zone climate control system in the higher trim levels. Set three different climate-zone temperatures to keep everyone on board comfortable, no matter how long your trip is. The X5 steps up the comfort in other ways, starting with 20-way power multi-contour front seats that offer shoulder support, thigh support, and 2-way manual lateral adjustment for the headrest.
X3 vs X5: Advanced Technology Features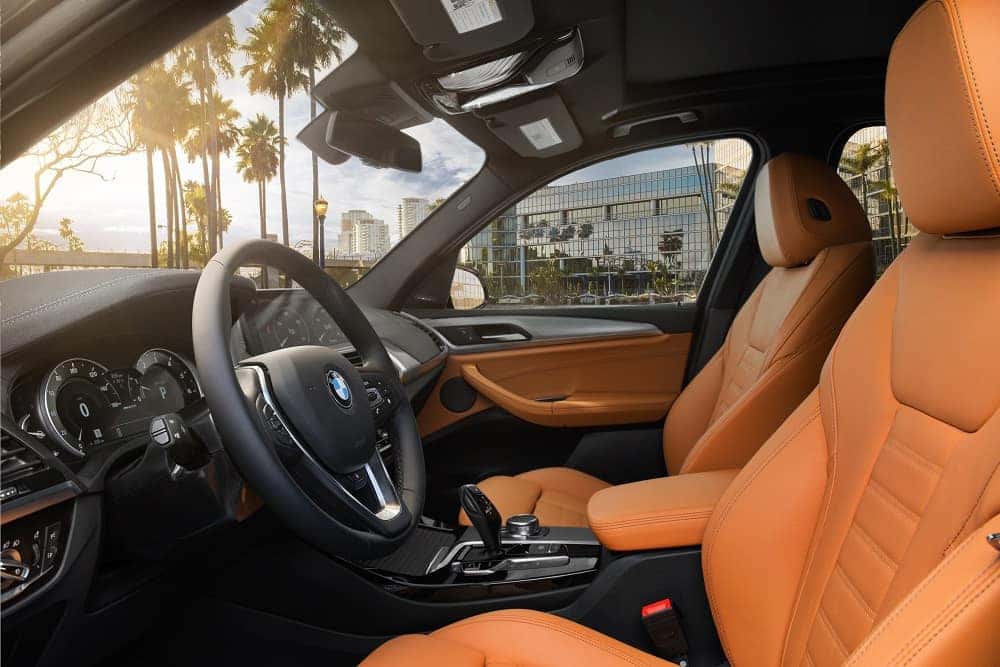 The interiors of the 2019 BMW X3 and the 2019 BMW X5 aren't just spacious and comfortable—they're technologically advanced, too. Both models come standardly equipped with an iDrive 6.0 infotainment system that combines entertainment, communication, and navigation. Connect your phone via Bluetooth® to make hands-free phone calls while you're following turn-by-turn navigation to all your destinations.
The X3 and X5 don't stop there, though. These luxury vehicles go a step further by offering an optional Wireless Charging Pocket and WiFi® Hotspot. Never get somewhere without a fully charged phone ever again, even as you surf and stream from the comfort of your BMW.
On top of these intuitive entertainment and convenience features, the BMW X3 and the BMW X5 offer some advanced active safety features, including:
Frontal Collision Warning, which warns you if you're approaching another vehicle too quickly
Dynamic Cruise Control, which adjusts your speed to keep up with the traffic around you
Active Blind Spot Detection, which monitors your blind spots for unseen vehicles or objects
These features are designed to help you stay safe and confident in all different types of traffic conditions.
2019 BMW X3 vs 2019 BMW X5: Which One?
As you can see, the 2019 BMW X3 and the 2019 BMW X5 have quite a bit in common. However, both models offer a variety of features and capabilities that are unique to them. No matter which one you decide to take home with you, you'll be behind the wheel of one incredible luxury vehicle.
Get behind the wheel and confirm which one is the right choice for your unique lifestyle by taking a test drive with us at BMW of Arlington. Shoppers in the areas of Arlington, Dallas, and Fort Worth can schedule one today by giving us a call at the dealership!