BMW Oil Change

At BMW of Arlington, we know how much you love hitting the streets of Arlington, Dallas, and Fort Worth in your cherished luxury vehicle. But, to keep it running smoothly for years to come, timely oil changes are needed.
To give you all the details you need to know, we've created this BMW oil change guide. Packed with tons of useful information, it will inform you of when you need to change your oil, why it's important, and warning signs to watch for if it's been awhile since your last change.
The Importance of Changing Oil in Your BMW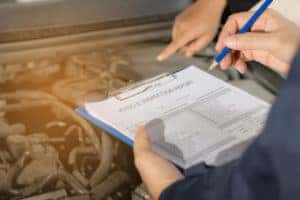 Oil is a super important substance under the hood of your BMW. By acting as a coolant and lubricant, it keeps all the moving parts of your engine working smoothly. However, over time it can diminish and become dirty.
When this happens, those moving parts can rub together and create heat, which can result in some serious issues in your BMW, like engine damage and even a fire. But, with frequent changes, this can be easily prevented.
Additionally, changing your oil when needed and ensuring your BMW always has plenty of clean oil can prolong its life. It can also elevate your performance and even provide better fuel economy. How about that!
When to Change the Oil in Your BMW
BMWs offer superior performance, so the oil change interval for most models is quite impressive. If you take good care of your vehicle and your driving habits aren't too erratic, you can drive up to 10,000 miles or more between oil changes. You can also refer to your owner's manual to see the recommendation for your specific model.
Checking your oil once a month is also smart, so you can ensure that your BMW's oil is adequately filled, free of debris, and has the right consistency. There are also warning signs to always keep an eye out for, for this is your vehicle telling you that you may need a change when unexpected.
Signs Your BMW Needs an Oil Change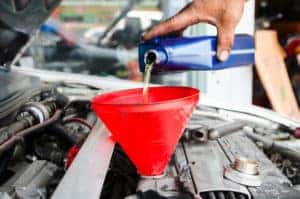 Engine Sounds – If your vehicle does not have enough oil to sufficiently lubricate and cool your engine, it will make sounds to tell you something is wrong. If you're hearing grinding, knocking, or roaring under your hood, schedule an oil change with your authorized dealer right away.
Oil Check Light – This is a telltale sign that your BMW may need some fresh oil. When this light illuminates on your dash, it means something is triggering the diagnostics connected to your oil system. Make sure to check and/or change your oil when this happens.
Oil Smell – Are you able to detect that distinct smell of oil inside your cabin? This could mean your engine is overheating or you have a leak, so schedule an appointment to change your oil as soon as possible.
Get a BMW Oil Change Today!
If it's time to replenish your BMW with oil, make an appointment at the service center of BMW of Arlington. Our pros can change your oil in a timely manner, allowing you to cruise the streets of Arlington, Dallas, and Fort Worth safely.