BMW CPO Financing
Making your next vehicle a Certified Pre-Owned (CPO) BMW is an excellent choice for drivers in Arlington, Dallas, and Fort Worth. Once you've picked out the perfect vehicle for you, it's time to think about how you're going to pay for it.
When you shop with us at BMW of Arlington, you can do all of your BMW CPO financing right on-site. Below, you'll find more information about how we do CPO financing and the many benefits you'll enjoy when you finance your next BMW with us!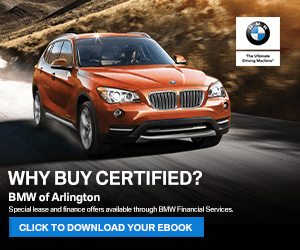 Personally Tailored Financing
Our commitment to an unparalleled BMW CPO financing experience begins with a variety of financing solutions that help you get into the BMW you really want. Go further with personalized lease and financing options that include flexible terms and competitive rates.
We know your wants and needs are unique. That's why BMW Financial Services offers you the luxury of building your own lease to fit your calendar, your lifestyle, and even the way you drive. With our Select and OwnersChoice loan plans, you'll have lease-like options but with ownership of the vehicle.
Premium Customer Service
The BMW financing process isn't just about the financing plan itself-it's about the personal, helpful customer service you receive. Our world-class, award-winning customer service representatives know your BMW and share your passion for the Ultimate Driving Machine®.
Our main goal is to make your financing process seamless from beginning to end, so that nothing comes between you and the joy of driving your BMW. By working with you one-on-one, they can get a full understanding of your personal needs and match you with a financing solution that you feel confident about.
Extra Benefits & Perks for CPO Customers
In addition to the incredible vehicle you'll get to drive and the personalized payment plan that we craft for you, BMW Financial Services offers a variety of extra perks and special events to our CPO customers. These benefits and perks are designed to heighten your BMW experience even more.
Let one of our BMW Family of Cards fuel your passion for the Ultimate Driving Machine®. No other card lets you redeem BMW Rewards points for up to $10,000 off your next BMW. You can also enjoy pushing BMW to its limits at our BMW Performance Driving School and receive 20% off when you pay for a course with your card.
Start Your BMW CPO Financing Today!
As you can see, not only will finding your next CPO BMW with us be enjoyable, but so will financing it. With a dedicated customer service team, an array of BMW CPO financing options to customize for you, and plenty of perks to offer, there's no better place to go than BMW of Arlington.
If you're ready to get started on finding and financing your next CPO BMW with us, get the ball rolling by browsing our inventory. Shoppers in the Arlington, Dallas, and Fort Worth areas can contact us to set up a time to talk about how to finance!